Save 30% on Water Heater and Installation

Call us for product information and installation cost.

Family Owned and Operated
Local company means your money stays here in our community. Helping grow our economy with your purchase.
Fast Response
Sate of the art vans that come fully equipped. We pride ourselves with being on time and most installations are done the same day.

Save Money
Better quality products and workmanship for less. On average you will save 30% on water heater and installation. Call us and compare.

100% Customer Satisfaction
Water Heaters is all we do! We are the best in the business. We train our plumbers and management is actively involved in every installation. We also travel all over the country and meet with manufacturers so that we can offer the best products.

Licensed Plumbers
Licensed By The Sate Board of Plumbing Examiners. All plumbers are background checked for your peace of mind.

Insured
Fully Insured plumbing company
Open For Business
Texans Water Heaters has been an essential company to the community, and will always be! My priority as a business owner is to keep our customers and employees safe and healthy. Its not just about protecting customers home its also about staying safe. For our customers peace of mind all our technicians wear proper PPE.
Keeping our Customers and Staff Protected During Corona Virus is Our Number One Priority.
Wearing masks, googles, shoe covers, and gloves to all installations.
Minimal interaction during installations with option to pay online
Protecting your floors with drop cloths, matts and tarps.
Health Screening all our employees and staff daily.
Staying current with recommendations from medical and industry professionals.
Washing hands and disinfecting surfaces.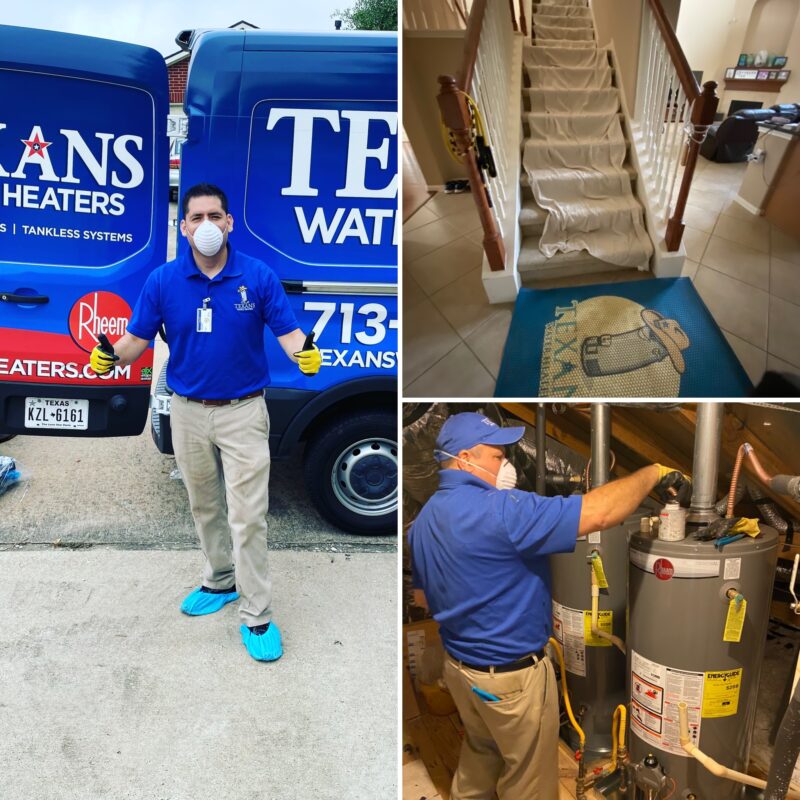 Testimonials
These guys are the best. Best in service, quality and price! They installed 2 water heaters on 3rd floor attic. Covered carpets, completed in less than 2 hours 30 minutes. Friendly workers and knew what they were doing. Completely happy and recommend.
I know Texans Water Heaters from my cousin. After my water heater was done greatly. I highly recommend Texans Water Heaters to everyone. Mr Joe an honest man and he did an outstanding job. Especially the price is reasonable 😊. Thank you Texans Water Heaters to help us.
Joe with Texan Water Heaters was amazing, they got my water heater install fast and was very professional. Highly recommend and will be using for future maintenance. Honest, thoughtful, and very affordable during this pandemic.
One of our water heater was leaking over the weekend, we call few people but finally we went with Texans water heater since they offered a very competitive price and promising service. They came Monday morning (4 people ), and they got the job done in time and perfect. They were super clean and professional, they installed two new water heater and gave us 2 gas lines and water leak alarm for free. We enjoyed working with such a wonderful company.